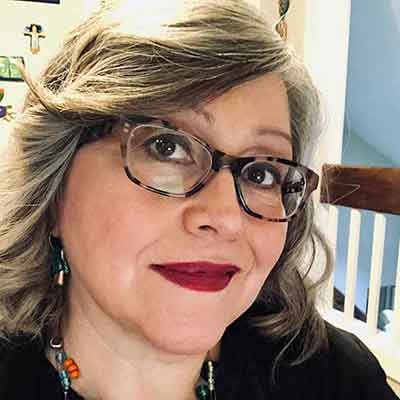 In Memory: Matilde Moros, Ph.D.
1966-2023
Assistant Professor
In Memory
This page is in memory of Dr. Matilde Moros, a beloved faculty member of the Department of Gender, Sexuality and Women's Studies. Please see below to read more about Dr. Moros and her work—as written in her own words—or visit the Hispanic Theological Initiative website to view a digital ofrenda they created in Dr. Moros's honor.
About
Matilde Moros was born in Venezuela and raised between the U.S. and Latin America. Her upbringing as a binational member of a multicultural family has led her in her transnational, decolonial, feminist work in religious social ethics. As a young child, Moros was exposed to human rights work in Latin America and later with Latin American migrants in the first Sanctuary Movement. As a young political science student at the College of Wooster, professor Moros studied the Mothers of Plaza de Mayo of Argentina, trying to understand the keen resistance of the mothers of the disappeared. So much of the academic and social justice work Moros has done, has been about counter-hegemonic methods of resistance that the most vulnerable populations practice as "otros saberes," other ways of knowing. One of these ways is developed through the method of "testimonio," a Latin American counter-narrative method of truth telling.
Moros' work is centrally located in the most vulnerable populations' responses to gender and sexual violence, and how we begin to do the work of breaking silences and revealing methods of resistance is a central question for professor Moros. She focused her doctorate and Masters of Philosophy work at Drew University on resisting the "Economy of Rape," a term she more fully developed in her dissertation work about Argelia Laya, an Afro-Venezuelan feminist leader. In her Master of Divinity studies at Princeton Theological Seminary, Moros developed a project on how political division is also evident in how religious communities interpret their community work with the most marginalized populations. At Princeton she also focused on the texts of Gloria Anzaldua and Marcella Althaus-Reid as guides to understanding gender and sexual violence in politically divided Latin America and Latinx communities. During her Master of Theological Studies at Harvard University Divinity School, Moros worked in an interdisciplinary collection of Latin American magical realism narratives, and the role these played in the way Latin American sexualities were portrayed in text. This is also where Moros first engaged with the life and work of Sor Juana Inés de la Cruz, widely acclaimed as the first feminist of the Americas.
While at VCU, Moros has published various book chapters and book reviews and has, among other teaching-related work, produced podcasts and a video series and has worked collaboratively with various organizations including the American Academy of Religion, the Presbyterian Church, USA, the Hispanic Theological Initiative, the Hispanic Summer Program, the Borderlands Institute, the Wabash Center for Teaching and Learning in Theology and Religion, Theological institutions in Latin America and Europe, and locally with the Virginia Interfaith Center for Public Policy. Moros teaches her beloved VCU students in Introduction to Gender, Sexuality and Women's Studies, Latinx Feminisms, Mujerista Ethics, Decolonial Feminisms, as regular, honors and topics courses. She also teaches departmental requirements for both graduates and undergraduates. She is a partner to John Taylor, a parent to three young adults (Alexa, Omar and Ali), and a dog mom to Piper. Richmond has become a favorite home town to Moros, who has been a world traveler and moved too many times in her life, and finds a happy place in the backyard gazebo from which she often teaches and greets her students.