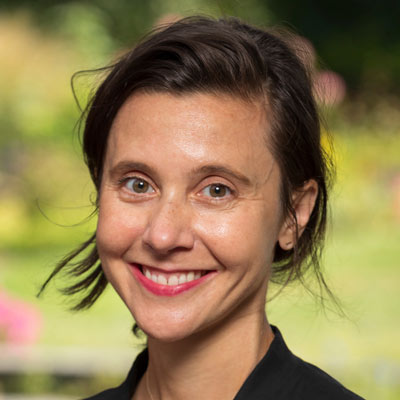 Adin E. Lears, Ph.D.
Faculty Affiliate
Hibbs Hall, 900 Park Ave., room 324H
Education
Ph.D. English, Cornell University
M.A. English, Queens College, CUNY
B.A. Medieval and Renaissance Studies, Vassar College
Research Interests
Adin Lears, Ph.D., works on the literature of late medieval England—including Geoffrey Chaucer, William Langland, Margery Kempe, and others—as well as the histories of ideas and culture that precede and surround it. Her approach to late medieval English studies combines historically informed close reading with contemporary theory from sound studies, new materialisms and the posthuman, and feminist and queer studies, as well as the history of science and technology. These conceptual lenses augment her exploration of the roles of emotion, sensation, and embodiment in medieval theories of language and knowledge as well as the social contexts and effects of these theories, especially those related to gender and sexuality. Her work has appeared in Studies in the Age of Chaucer, Viator, and other scholarly books and journals. Her first book, World of Echo: Noise and Knowing in Late Medieval England was published by Cornell University Press in 2020. Currently Lears is working on various projects that explore and interrogate medieval discourses of vitality and liveliness, especially as they are expressed in medieval theology and natural philosophy and countered in vernacular literature. Working on 'noise' and 'liveliness' has given her the opportunity to write and publish on a range of medieval genres and topics including medical and religious writing on melancholy, moral proscriptions against gossip, political complaint and revolt, alchemy and medieval techno-utopianism, scholastic accounts of wonder, and more.

At VCU Lears loves introducing students to the joys of medieval literature and literary study through thematically-focused courses that teach canonical material while putting pressure on the exclusionary values that have historically shaped the formation of the canon. She has taught or will teach classes on topics such as "Noise, Voice, and Identity," "Crafting the Self in the Middle Ages," and "Medieval Literature and the Weird." Lears asks students to consider points of continuity between the Middle Ages and contemporary life as well as to imagine how the strangeness and difference of the Middle Ages might help us to address urgent contemporary concerns and reshape our world today. Lears is also an avid reader of contemporary fiction and poetry, which frequently makes its way into her classroom, as well as her writing.
More Information
Adin Lears' faculty page (VCU Department of English)